Chester Johnson (Owner & Operator)
Favorite Dog:

Bernese Mountain Dog

Favorite Cat:

Tuxedo

Current Pets:

Aussie the Catahoula, Nugget the Golden Retriever, and multiple fish tanks

Hobbies & Interests:

Bowling, Golfing, and Gardening

Favorite Movie:

Ghostbusters

Favorite Book:

Jurassic Park
Lisa Johnson (Co-Owner)
Favorite Dog:

Siberian Husky

Favorite Cat:

Tiger Striped

Current Pets:

Aussie the Catahoula, Nugget the Golden Retriever, and multiple fish tanks

Hobbies & Interests:

Quilting, Sewing, and overall crafts in general

Favorite Movie:

Silence of the Lambs

Favorite Book:

Stephen Kings Dark Tower Series
Brandy (Assistant Manager)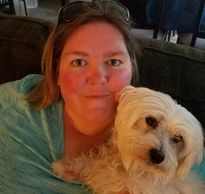 Favorite Dog:

Maltese!

Favorite Cat:

Birman

Current Pets:

August Maximus AKA Gus 11yr Old Maltese, Dexter Farnsworth 4yr old Maltese

Hobbies & Interests:

I love to play games (table top and pc), travel, swim, boating, and keep my nieces and nephews.

Favorite Movie:

Fight Club

Favorite Book:

Harry Potter Series
Beth (Assistant Manager)
Favorite Dog:

Rottweiler

Favorite Cat:

Lynx Point Siamese

Current Pets:

Libby - German Shepherd, Casper - Lynx Point, Cleo - domestic shorthair, Spike & Daffy - hermit crabs

Hobbies & Interests:

reading/audio books/podcasts, gardening, fitness

Favorite Movie:

Sweet Home Alabama

Favorite Book:

Harry Potter Series
Jen (Pet Sitter & Trainer)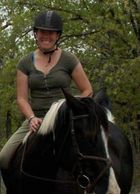 Favorite Dog:

That's like choosing a favorite kid. I can't do that.

Favorite Cat:

my cat oreo

Current Pets:

5 1/2 horses (1/2 is a miniature horse), 3 goats, 3 sheep, a cow, 4 dogs, 1 cat, a dove, and a uromastyx (lizard)

Hobbies & Interests:

horseback riding, crossfit and watching my kids sports

Favorite Movie:

Wild hearts can't be broken.

Favorite Book:

What's a book? I have been too busy to pick up any books.
Judy (Pet Sitter)
Favorite dog:

Lab

Favorite cat:

Gray Striped

Current pets:

2 rescue dogs;Misti a shepherd mix and Sunny a very large lab mix

Hobbies and interests:

long walks with my dogs and spending time with my grandkids, and reading

Favorite movie:

The Help

Favorite book:

To Kill A Mockingbird
Amira (Pet Sitter)
Favorite Dog:

Cocker Spaniel

Favorite Cat:

Russian Blue

Current Pets:

2 dogs, bird and hamster

Hobbies:

Scrapbooking, cooking, live music, road trips and camping

Favorite movie:

Fried Green Tomatoes

Favorite Book:

Snow Flower and the Secret Fan
Brenda (Pet Sitter)
Favorite dog:

Siberian Husky

Favorite cat:

Maine Coon

Current pets:

2 dogs, 3 cats, 2 horses, 2 goats, 5 alpacas. All equally spoiled.

Hobbies and interests:

Writing, cooking, volunteering, anything to do with my kids and pets.

Favorite movie:

The King and I

Favorite book:

Pride and Prejudice
Jennifer (Seasonal Pet Sitter)
Favorite Dog:

All. Of. Them.

Favorite Cat:

Ragdoll

Current Pets:

Spooky (beagle mix) and Carly (lab/pointer mix)

Hobbies & Interests:

Reading, Church activities, Hanging out with family

Favorite Movie:

Any and Everything Marvel

Favorite Book:

A Dog's Purpose